Dentures at Centro Dental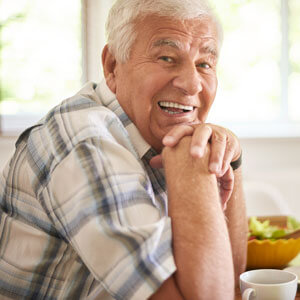 If you're missing teeth, dentures provide an effective, budget-friendly way to replace multiple teeth or all of your teeth. The dentures offered at Centro Dental are comfortable, durable and affordable, making them a go-to choice for many people who want to restore the look and function of their smile.
Our team is experienced in recommending the materials that will work best for you, allowing you to eat and speak as you like. They're available in both full and partial forms depending on the teeth that you wish to replace.
FAQ
What is the cost of dentures?
The cost of a denture will depend on whether it's full or partial and which materials are selected for the denture. All the costs of the denture you want will be detailed at your consultation so that you will be fully informed before deciding to move forward.
Are dentures strictly for seniors?
No; all ages of people use dentures. They are appropriate for anyone who would like to replace multiple teeth or all teeth.
Are dentures covered by health funds?
Your dental cover level will depend on your particular plan. We recommend that you contact your health fund to ask about your coverage for dentures. We're preferred providers for Bupa and HCF and accept all health funds. You can claim your rebate on the spot with our HICAPS machine.
How many appointments are needed?
To get dentures, you'll have two appointments. At the first, we'll evaluate your oral health and make sure that you're a suitable candidate for dentures. We'll also detail any other tooth replacement options that are appropriate for your situation such as a dental bridge or dental implants.
Once you've decided to move forward, we'll gather information such as impressions, which is sent to our laboratory. Your denture is created there, then sent back to our practice. You'll return for a follow-up where we'll fit the denture and advise you on how to care for it.
Book your appointment today!
Contact us today to learn more about dentures Geraldton and our other options for teeth replacement!
Any surgical or invasive procedure carries risks. Before proceeding, you should seek a second opinion from an appropriately qualified health practitioner.
---
Dentures Geraldton, Beachlands, Wonthella WA | (08) 9964 2861